CEMETILE offers a wide range of products catering to the landscape and construction industry in western India. With the biggest assortment of interlock pavers, chequered tiles, concrete retaining wall system, hollow and solid construction blocks, fly ash bricks, crush sand and aggregates; CEMETILE is a one-stop shop for all your civil projects.
CEMETILE
pavers add warmth to any outdoor setting and are ideal for patios, pool decks, driveways, internal roads and streets. These pavers don't just make a remarkable statement–they also provide a durable surface for years to come. Solid, striking and extremely versatile, our pavers are an essential element of any landscaping design, guaranteed to inject effortless style into your project. Find out more about each range below, including dimensions, textures, colours and applications: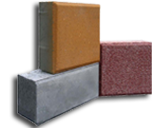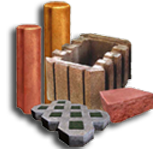 CEMETILE was the first to introduce the concept of a modular retaining wall system in Maharashtra. Our VERTISOL range of products offers a variety of concrete solutions for edging of lawns, retaining of flower beds or even creating vertical gardens. Also, CEMETILE introduces range of Grass Pavers and garden furniture to add variety to your landscape project.
CEMETILE produces the BEST quality solid, hollow blocks as well as fly ash bricks.